Why choose JDM EXPO? 
CUSTOMER SATISFACTION RECORD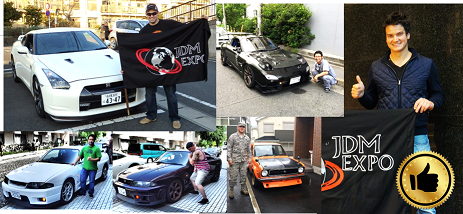 We Have the Highest Rate of Customer Satisfaction Record in JDM Auto Industry 
- When purchasing a car, especially an expensive sports car online, it is critical to check the track record of the company that you are considering to buy a car from. Commonly, the best method to do that is to check the reviews of customers who have previously purchased a car and done some form of business with them. At JDM EXPO, we are committed to achieve high levels of client satisfaction and throughout our business history, we are proud to have maintained an outstanding track record of customer satisfaction. Our customers have always been free to make an honest reviews about us and their reviews are easily reachable online. We welcome you to check out the reviews and testimonials of our customers and feel free to comment on their experience to get their further clarifications. To learn more about our reviews on our website, click HERE. For the reviews on our google and Facebook pages, click HERE and HERE. 
GREAT QUALITY & BEST PRICE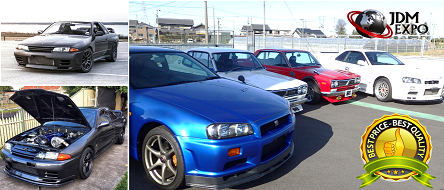 We Offer High Quality JDM Cars & Services at Unbeatable Market Prices
- We believe that great quality cars and services offered in the right price is the single the most important factor that affects the satisfaction level of our clients. Since the customer satisfaction is the #1 priority of our company, we always give special attention to the quality and cost-efficiency of our business practices. To cut the extra cost, we source our JDM cars directly from the local end-users, sports car dealers and actively participate in Japanese auction halls, always looking for the good cars offered in the right price. Essentially, unlike the most dealers and exporters, our operations don't involve middlemen as we operate as an exporter as well as an importer, offering all the export, import and delivery related services in one package deal to our overseas customers. If you are USA based customer, click HERE to learn more about our USA JDM import operations and full package services.
MARKET EXPERRIENCE & EXPERTISE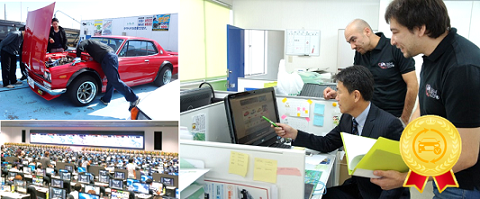 We Are Professional With Almost 4 Decades of Market Experrience & Expertise
- We have been in JDM automotive business since 1976, and throughout the period we have evolved as the industry leader thanks to the extensive market experience and expertise of our staff members. At JDM EXPO, our team members mostly consist of JDM sports car specialists, reputed technicians and professional racers whom all have developed their life with the love of sports cars. Being the professionals, we always welcome the JDM enthusiasts around the globe to ask for our consultations and recommendations on the JDM cars of their interest. Upon special request, we give free consultations, offer private inspection services of JDM cars being auctioned in Japan and being offered for sale at the local Japanese dealers. Upon the inspection, we provide our clients with unbiased report on the condition of the vehicle of their interest and make purchase recommendations depending on its actual market price worth. To learn more about us, click HERE
LARGE SELECTION OF JDM SPORTS/CLASSIC CARS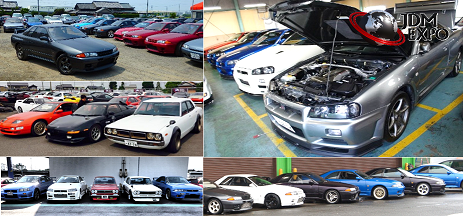 We Have the Largest Stock of JDM Sports/Classic cars in Japan! 
- When choosing a vehicle to purchase, it is always the best to be able to compare several similar vehicles which are available for sale and recently have been sold. Being able to do so provides you a valuable insight to compare the price and quality of the cars that are being sold in the market. At JDM EXPO, we are proud to have the largest stock of JDM sports and classic cars in Japan. We have 6 lots in Nagoya and greater Aichi area each consisting of variety of JDM cars which includes Nissan Skylines, GTR R32, Toyota Supra, Mazda RX-7, GTR R33, GTR R34, Honda NSX, and many others. In addition, we have a partnership agreement with 10s of local JDM sports car dealers and have full access to their inventories as their exclusive exporter agent. Thus, we can offer variety of choices on the most models of JDM cars, all being in a highly competitive market prices. To check out our vehicle inventory, click HERE.
WIDE RANGE OF COMPLEMENTARY SERVICES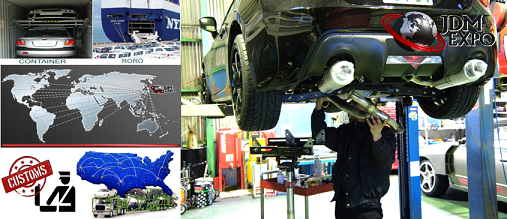 We Offer Wide Range of Car Related Export/Import Completemtanry Services
- We are local Japanese sports car dealer with a specialization of exporting JDM cars to worldwide markets. Complementary to our export specialization, we also offer a wide range of full package services at the request of our customers. Those services include: direct purchase of JDM sports and classic cars available for sale at our inventory, custom search of rare JDM cars throughout Japan, direct participation in Japanese car auctions through our web portal and a free access to the sales and price statistics of all JDM cars being sold throughout Japan. In addition, we also provide services of inland (Japan) vehicle transportation, indoor and outdoor vehicle storages facilities, maintenance, tuning and vehicle modification services. Moreover, we also assist with vehicle export paperwork, shipment to any major port throughout the world, import assistance (USA, Australia, New Zealand, UK, and Europe) and front door delivery of your vehicle in your home country. To learn more about our service, click HERE.
TRUST & GUARANTEE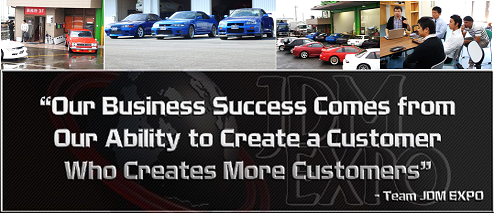 Our Operations Are Based on Trust & We Guarantee Yours Satisfaction!
- Gaining and maintaining a high level of customer trust is a fundamental to the success of any business. At JDM EXPO, this is the exact reason why we have evolved as an industry leader in Japanese auto market over the past several decades. Unlike our competitors, our business operations don't depend on middlemen technicians, agents, importers and etc., which greatly enhances our ability to better serve our customers while easily delivering our promised deadlines without delays. We are not just one of the largest Japanese local car dealer, but we are also the top JDM car exporter as well as an importer in several overseas countries. Our cars are always sold as advertised without any hidden costs, and our commitment to gain our clients' trust and satisfaction drives us to strive only for excellence. At JDM EXPO, we guarantee your satisfaction on the quality of our cars and services, and look forward be your Japanese business partner in further developing our business based on trust and fulfilment.

JDM EXPO activities in videos