Offered Services at JDM EXPO
Direct Sales of our Inventory Cars / Custom Search in Japan  

JDM EXPO Yatomi Yard #2 (Japan)
- We sell JDM cars directly from our inventory. We are a leading exporter/dealer of JDM sports and classic cars in Japanese automotive industry with the largest existing stock of such cars. The most of our inventory cars have low mileage and are kept in great condition thanks to the excellent maintenance management of our highly skilled team of professional mechanics. To see the available cars for sale in our inventory, please check out our online vehicle inventory. If you are looking for a unique/rare sports or classic car which is not available on our stock, we also provide a custom search of such vehicle throughout Japan at free of charge.
Participation in Japanese Car Auctions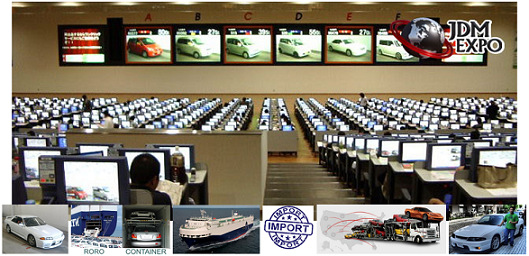 Car Auction in Japan & Related Services
- We offer our customers a full access to participate in Japanese car auctions through our website, and make bids on the car of their choice as a licensed member of the Japanese auction houses. The car auctions are one of the most popular method to purchase JDM cars in Japan. There are over 200 auto auction houses throughout Japan and each day 10,000s of cars are auctioned. Each car being auctioned at the auction house comes with an auction inspection sheet which allows buyers and inspectors to evaluate the real worth of the car. At the request of our customers, we conduct car value evaluations and make bid recommendation at free or charge. Moreover, if our customers are located abroad, we offer additional services of auction house car pick up and transportation, export procedure, shipment, import and front door delivery service of the car that our customers won through participating in the car auctions in Japan.
Vehicle Storage / Maintenance Facilities

JDM EXPO Premium Yard & Head Office
- We offer a car storage service for our customers up to 3 month period at free of charge. For longer period usage, our rates start as low as 25 USD per month. We have 6 different storage facilities located around Nagoya and greater Aichi area all at close driving distance to Nagoya Port. To maintain high level of security and to prevent the entrance of unauthorized individuals, our storage facilities are surrounded with fence and surveillance cameras, and protected with laser pointed signalization system and 24/7 private security company guards. At the request of our customers, we also provide car maintenance checks and services.
Modifications / Tuning

JDM EXPO Nagoya Tuning Studio
- We provide tuning and modification services. The most vehicles in the market are usually sold with an average driver's expectations and conditions. Tuning and modifying on the other hand is a way of personalizing the characteristics of your vehicle to your own preferences. Accordingly, we privde alteration services to improve the car's overall performance with better handling and increased power. In general, our modification services include engine and management system improvements in order to increase the power output of the car, and also modifications on suspension, tires, brakes, steering and transmission in order to allow the vehicle to better handle its improved power.
Worldwide Shipment
- We offer shipment service and ship cars from Japan to any major port in the world. We have two types of shipments available – RoRo (Roll-on/Roll off) Shipment and Container Shipment. RoRo Shipment is the simplest and cheapest method of shipping the vehicle if only one car is being shipped. Disadvantage of this shipment is that nothing can be inside the car expect for the jack and spare tire. Container shipment is usually used when the car is being sent with additional items inside the trunk or the backseat of the car. However, this type of shipment is a bit inefficient and costly although it is safer method of shipment as well. Depending on your location, there are some countries where we can ship using RoRo or Container only. Prior to the car shipment, we usually take care of all export related paperwork as well and send you the export certificate, vessel track number and other related documents using DHL service.
Import Assistance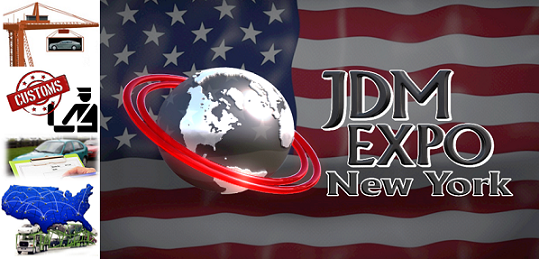 Import Assistance / JDM EXPO New York
- We assist with import related paperwork and import process. Depending on your country, we can also take care of all the import and registration procedure on your behalf and deliver the car to your front door. For the first time individual buyers, sometimes importing a car can be very complicated and time consuming process. Thus, we have many partner companies including our branches throughout the most Western countries including Australia and New Zealand to assist with the importation of the car. The most recently, at the request of our USA customers we have opened our new branch in Albany, New York. For the USA imports, our New York branch currently takes care of all the import/custom related paperwork and car registration. To learn more about our New York branch, federally importable JDM cars to the USA and the ones that are available for sale in our New York branch, click HERE.
Home Address Delivery

We Deliver Your Car to Your Front Door
- We offer front door delivery service of your car, after the import process. The process of finding your dream JDM car from Japan, then having it taken care of all the shipment and import process, and then having it delivered to your front door has never been as simple, easy and as convenient as it currently is with the services of JDM EXPO! To learn more about us, please click HERE, and to learn more about our customer testimonials, please click HERE. If you have any questions with regards of our cars and services, please contact us at [email protected] and never hesitate to ask if you have any questions. Remember, we love hearing from you!
Let our customers talk about us

JDM EXPO activities in videos